The Warramiri website: applying an alternative Yolŋu epistemology to digital development
Research and Practice in Technology Enhanced Learning
2017
12:14
Received: 20 November 2016
Accepted: 8 May 2017
Published: 26 July 2017
Abstract
The intergenerational transmission of traditional language and culture is at the core of Yolŋu Indigenous knowledge practices. The homeland of Gäwa in remote Arnhem Land, Northern Territory, was established by Warramiri clan kinship networks to provide an appropriate place for this crucial role to continue. Technologies have long played a part in this transmission process, but can databases, websites and other digital storage mediums harmonise with existing Yolŋu epistemological and ontological frameworks? In considering an alternative approach to digital development, we rely on the Yolŋu elements of performative epistemology, multiple perspectives and a fundamental, narrative base. We then apply this approach to the construction of the 'Warramiri website' (2011–2015) which houses and structures various resources, outlining its applicability to the current educational practices at Gäwa.
Keywords
Warramiri websiteYolŋu epistemologyIndigenous digital education
Introduction
From 2011 to 2015, Kathy Guthadjaka and Ben van Gelderen worked collaboratively on creating the 'Warramiri Website'. Warramiri is the name of one of the 'clans' and language groups of the Yolŋu Indigenous people of North-east Arnhem Land, Northern Territory. Although spread out across this area in various townships, around 40–50 Warramiri members now live at Gäwa, a small, very remote homeland at the tip of Elcho Island. Gäwa was established by Kathy Guthadjaka and her kinship network in the 1980s, literally returning to country by cutting a road through the bush, establishing water supplies and houses, running school classes and eventually, permanently settling there. It is a remarkable story of vision, resilience and Indigenous self-determination (Gäwa Christian School
2016
). Specifically, the purpose of establishing Gäwa was to allow young Warramiri to grow up on their ancestral estates; to live 'on country' and learn from the land, away from the negative influences and distractions of life in the local township, Galiwin'ku. In short, Gäwa exists to best serve the age-old process of intergenerational transmission of Warramiri language and culture, understood as a holistic, Indigenous foundation (Fig.
1
).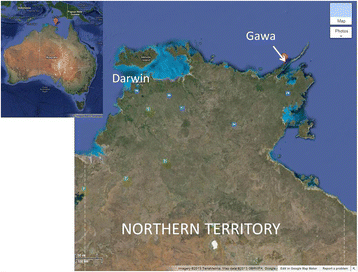 The Warramiri have a long history of engaging with outside influences, such as Macassan traders, Christian missionaries and Government authorities, with a sophisticated philosophy of incorporating various elements of new ideas and technologies into their existing ontologies (McIntosh 1994, 1997, 1999; Rudder 1993). Digital technologies certainly fit within this paradigm, and from the school's outset, Kathy Guthadjaka as a qualified teacher and Elder, employed new technological initiatives to engage and teach young Warramiri of their heritage and inheritance (Charles Darwin University 2006). As part of this drive for the 'best of both worlds', in 2004 the community partnered with the Northern Territory Christian Schools Association to provide a permanent, well-resourced school at Gäwa. In 2009, Ben van Gelderen arrived as the first 'senior' class teacher and began working with Kathy Guthadjaka in developing and implementing a bilingual and intercultural ('Bothways') curriculum for the class. Bothways had been progressively developed at various Yolŋu community schools (Lanhupuy 1988; Wunuŋmurra 1989; Yunupiŋu 1989; Marika-Munuŋgiritj 1990) and highlights the negotiation of Indigenous language and culture priorities within 'mainstream' schooling practices as an integrated curriculum. Kathy Guthadjaka had already been working for decades with the Bothways philosophy of education and Ben van Gelderen was keen to incorporate such an appropriate approach that both met the original aims of the Gäwa community and enabled Warramiri students to confidently transition to English usage and experience the breadth of the new Australian Curriculum. But it was in the area of digital resources that a clear potential emerged. Over the years, Kathy Guthadjaka had researched and developed a varied range of resources to facilitate a Warramiri Bothways curriculum. These included electronic story-books, factual audio-recordings on seasons and bush food, women's crying songs, video songline stories, artworks and modern 'parables'. There were also sources on Warramiri life in general, published in conjunction with other interested parties, such as music DVDs with "The Wiggles" (Field 2011) and local texts written and filmed from class activities with visiting researchers. These resources were genuinely unique, often stunning pieces, but there was a real concern that time and the elements might conspire to destroy them in such a remote and unrelenting environment. After much discussion, it was agreed that preserving and somehow structuring them into a website could benefit the school and community for generations to come. Such was our initial plan, which seemed so straight forward at the time. As of 2010, we would have answered the fundamental question: 'Can digitized information feed into, complement, and extend the already well-developed ways that information is handled and managed in Aboriginal communities to support Aboriginal people in doing their knowledge?' (Verran and Christie 2014, p. 72) with a resounding 'Yes!'; we were implementing such a process. However, as it turned out, the shift from an array of various digital resources to a structured website was neither practically easy nor theoretically clear, and the more we developed and researched, the more complicated it became.
The transmission of traditional language and culture is both a profoundly religious/historical process and a 'futures thinking' activity, to accommodate the interests and technologies of the present and future generations. The great challenge in digital design is to ensure a disjuncture between these two powerful demands does not eventuate; to create respectful and flexible pathways for communities and educators. Our intention in this paper is to outline the key theory postulated by Christie, Verran and other Yolŋu researchers in regards to Yolŋu interaction with digital technologies (of performative epistemology, multiple perspectives and a fundamental, narrative base) and then briefly share the creation of the Warramiri website as a problematised and ongoing application of this theoretical framework.
Methods
The Warramiri website as a digital resource to aid transmission of Indigenous language and culture intersects with a number of pertinent and evolving theoretical frameworks; decolonising Indigenous methodologies (Smith
1999
; Haebich
2014
) ICT Indigenous pedagogies (Jorgensen
2013
; Watson
2013
) and Indigenous digital archiving (Nakata et al.
2008
; Gardiner et al.
2011
) to name a few. And there are some works which analyse the role of technology and broadly defined 'literacy' in remote Australian Indigenous settings similar to Gäwa in some ways (Kral
2012
). Specifically, in the area of digital design and 'architecture', research coming out of public displays such as museums is often relevant. In this context, Srinivasan and Huang (
2005
) describe the concept of 'fluid ontologies' accommodating a 'tighter coupling between communities'
interests
and the browsing
structure
' (Srinivasan and Huang
2005
, p. 193), with a number of key factors facilitating this process; the knowledge content creator being directly involved with the digital structuring, making explicit the browsing and rearrangement processes available, remaining adaptive to new structures and by analysing actual histories of interactions with digital resources. In a similar vein, highlighting the agency of the content contributors, van der Velden (
2010
) calls for a 'knower-centred approach' (compared to a knowledge-centred approach) to Indigenous Knowledge Management (IKM), posing the fundamental query of how to 'keep the relational, performative, and dynamic character of indigenous knowledge 'alive' in the design of knowledge management software?' (van der Velden
2010
, p. 8). Her suggestion concerns the 'contact zone' where Indigenous knowledge and the techno-scientific knowledge of the management software meets not being defined as one of interaction, but of 'intra-action' where there is ongoing entanglement; 'with each iteration of the design, new agencies in terms of possibilities and constraints emerge' (van der Velden
2010
, p. 12). Duarte and Belarde-Lewis (
2015
) also offer a helpful overview of some 'best-practice' projects, ranging from North America to New Zealand. Particularly encouraging for the Warramiri website was to view it as an example of their identified third stage of 'imagining', where 'Indigenous and non-Indigenous groups build partnerships to spread awareness and acquire formal acknowledgement of the epistemic value of local Indigenous knowledge' (Duarte and Belarde-Lewis
2015
, p. 692). Specifically, there was also endorsement that maintaining a small, localised focus was appropriate; 'at the very basis of Indigenous thought is the understanding that Indigenous knowledge are place-based knowledge, best understood in the richness of context, through the use of Indigenous languages, and conceptualised holistically' (Duarte and Belarde-Lewis
2015
, p. 693). Indeed, such a statement could have been written as a direct summary of the Warramiri website's foundation. In the Australian context, Dyson and Legget (
2006
) suggest a 'metadesign' methodology as the digital articles being designed are also interfaces for future design; the 'design approach is a seeding process rather than planning exercise' (Dyson and Leggett
2006
, p. 85). Such an approach seemed to align strongly with the Warramiri website developing into a 'live' resource, particularly to be integrated into the ongoing curriculum and further digital development at Gäwa Christian School. Practically, Dyson and Legget also suggest a number of concrete requirements for multimedia design in Indigenous communities:
Appropriate to Indigenous culture, particularly its oral and graphical strengths;

Robust enough to withstand the harsh environments where many remote communities live;

Acknowledging Indigenous knowledge protocols, security concerns over who has access to secret or sacred knowledge and intellectual property issues;

Easy to use and navigate (given low computer literacy levels in many communities);

Cost-effective (given the poverty of many communities);

Allowing for diversity of communities and cultural evolution over time;

Able to be placed outdoors at the locus of creative practice;

Providing community control over contents and over design, development, implementation and maintenance (Dyson and Leggett 2006, p. 83).
All these theorists played an important role in 'imagining' the site, however, we need to insist that the relevant theory underpinning Yolŋu use of digital resources must arise from specific Yolŋu theorists and/or those who have spent considerable time understanding and applying Yolŋu knowledge systems. This is due to the profound variations of language and epistemologies even within Australian Indigenous communities and certainly within the global Indigenous community. Thus, the work of Christie, long-term teacher, linguist, lecturer and preeminent philosopher in regards to Yolŋu language and culture, provided the extensive theoretical backbone of our website project. Somewhat akin to Yolŋu knowledge-understanding progressing from 'outside' to more sacred and complex 'inside' truths, his work has progressed from the Bothways philosophy of education (Marika-Munuŋgiritj and Christie 1995; Christie 1997, 2007a) to elucidating a research methodology that genuinely incorporates Yolŋu philosophy; a 'transdisciplinary' approach of working at the interface of western-academia and Indigenous Knowledge systems, attempting 'both this and that at the same time' in terms of generating research 'results' but retaining the Yolŋu emphasis on solutions to real issues; research that 'within the Aboriginal world is respectful, respectable and useful' (Christie 2006a, p. 80). It is also 'generative' as the research serves a local purpose, it 'works to generate change practices through research position' (Christie 2013, p. 4). In particular, his long-term commitment over the last two decades to continue to work with Yolŋu practitioners has also enabled him access to emerging Yolŋu philosophies in regards to digital technology.1 In fact, Kathy Guthadjaka helped inform aspects of his work in prior projects and articles.2 Importantly, Christie and connected researchers produced a range of articles from 2004 to 2014, based on a number of large-scale digital projects which highlighted the tension between the benefits of incorporating the use of digital technology in Yolŋu intergenerational transmission knowledge practices and the inherent dangers and contradictions of databases and web-based mediums. It is these works we now synthesise and structure as our foundational theoretical paradigm.
Conclusion
The Warramiri website had a long gestation period, but this is something we are proud of. We intentionally wished to 'work slowly and allow new ideas and practices to emerge here and how, and grow slowly through mutual respect and a history of shared experience' (Christie
2009
, p. 32). We wrestled with the nature of structures, multiple perspectives and performative knowledge practices, and even though the website on the surface appears relatively simple to negotiate, we believe some of the complexity of Warramiri ontology and epistemology underpins it. But even more crucial is the fact that the entire website was envisaged and developed by the people who desire to use it, and by utilising a generic and reasonably easy template to manipulate, it continues to change. The Warramiri website is not complete, it is intentionally incomplete and it will continue to alter and grow according to community wishes. The final step (which began in April 2017 with professional development days for Gäwa staff on the site and its underlying philosophy) is to truly integrate the various resources with the school curriculum through a Bothways negotiation between community Elders and current teachers. This, we believe, is the ultimate narrative foundation, in that stories are told by people, and the people telling the stories at Gäwa are the Warramiri who have total command over the digital resource that is the Warramiri website. As Christie concludes, the ultimate goal of the alternative epistemology is that 'the distinction between the programmer and the user begins to dissolve, and the accountability of each is located in the relations which make the technologies useful' (Christie
2005a
, p. 65). At Gäwa, we believe this process has only just begun (Fig.
5
).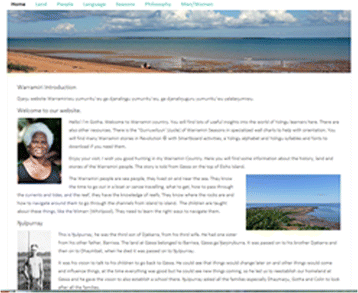 Footnotes
2
She was co-author in Guyula et al. 2010 and Christie formally acknowledges her contribution to his other works in Christie and Greatorex, 2009 (Gambling report), Christie and Campbell, 2013 (Housing report) and Christie, 2010, (Teaching from Country), 2011, (Gifted and Talented education), 2014 (Community development).
4
Indeed, we were unaware of this project until the actual 'Atlas' was delivered to the school at Gäwa. Despite being a beautifully illustrated and researched volume of over 500 pages, it is not for sale, but is to be distributed to various Yolŋu homeland communities.
Declarations
Acknowledgements
None.
Authors' contributions
KG carried out community research, designed and edited the website in collaboration with BvG who also prepared the manuscript. Both authors read and approved the final manuscript.
Competing interests
The authors declare that there are no competing interests.
Publisher's Note
Springer Nature remains neutral with regard to jurisdictional claims in published maps and institutional affiliations.
Open AccessThis article is distributed under the terms of the Creative Commons Attribution 4.0 International License (http://creativecommons.org/licenses/by/4.0/), which permits unrestricted use, distribution, and reproduction in any medium, provided you give appropriate credit to the original author(s) and the source, provide a link to the Creative Commons license, and indicate if changes were made.
Authors' Affiliations
(1)
School of Education, Charles Darwin University, Darwin, Australia
(2)
Northern Institute, Charles Darwin University, Darwin, Australia