Digital learner presence and online teaching tools: higher cognitive requirements of online learners for effective learning
Research and Practice in Technology Enhanced Learning
2017
12:18
Received: 3 February 2017
Accepted: 25 August 2017
Published: 7 September 2017
Abstract
This article explores digital learner presence in various higher education degrees in a regional institution in NSW, Australia. Several tools used for online teaching are explored through individual research projects in relation to the learner's presence with the tool being used. It was found that a variety of online teaching tools provided student presence and were effective for learning. Blogs, discussion boards, wikis and 3D virtual worlds were used to engage students in their learning. Herewith, the authors point out those that are more successful than others.
Keywords
Digital learner presence3D virtual worldse-learningMetacognitionInformation Communication Technology (ICT)EngagementCommunity of Inquiry
Introduction
The authors began their careers as academics in the higher education sector in 2006 and 2013 respectively. Gregory was in the area of Information Communication Technology (ICT) Education and Bannister-Tyrrell in Gifted and Talented Education. Both academics incorporate ICT into their students' learning as the institution where they work, the University of New England, is an online course provider to over 80% of their students. The authors had to learn to teach online and use a variety of tools to engage their students.
This paper is based on research conducted since 2008 and the academics' perception of how various ICTs (blogs, discussion boards, wikis and 3D virtual worlds) have had an impact in relation to teaching and students' engagement with their learning and their digital presence. Each student's digital presence is explored through a variety of e-learning tools used by the students through the learning resources offered. As a regional university in Australia, the University of New England (UNE) has approximately 22,000 enrolled students with 80% opting to study online (i.e. off-campus, by distance) (University of New England 2014). In the School of Education, there are usually between 4000 and 5000 students enrolled, with 88% opting to study online. On-campus students in the School of Education have been declining with less than 12% choosing to attend on-campus where they would attend lectures, workshops and tutorials (McGarry 2014). The university average is around 82% online students. The authors, who are experienced in the use of a variety of online resources as teaching and learning tools, provide research results to demonstrate that some of these tools are immersive and engaging for the students' learning experiences. These tools have provided students with a digital learner presence.
As noted, the majority of the students enrolled at UNE are enrolled in online mode, which means that they use a learning management system (LMS) to access their teaching and learning materials. A variety of ICT resources have been provided through the LMS including instructional resources. Many of these provide links to outside resources, usually secure resources where students are required to use a username and password to enter. However, there has only been a handful of units (subjects) that offered the variety of online tools that will be discussed in this article, including a 3D virtual world for learning.
This article explores the digital learner presence of the students and provides student feedback on their perceptions of the affordances of a variety of online tools used in teaching in the School of Education, namely blogs, discussion boards, wikis and 3D virtual worlds. Learner presence in this article refers to the "learner's online self-regulatory cognitions and behaviours" (Shea and Bidjerano 2012, p. 316).
Online tools used in this research and how they were used
A variety of online tools utilised by undergraduate and postgraduate students were involved in this research. The tools included blogs, discussion boards, wikis and 3D virtual worlds. An explanation of each of these tools follows.
Methods
Aim
The research discussed herewith explored students' online presence, i.e. their self-regulatory cognitions and behaviours. Students from 2008 to present have participated in this research from a variety of educational degrees and contexts but all expressing their understanding and perceptions of their engagement in their learning through the use of a variety of online tools. The research aimed to provide a starting point, through the context of the student's knowledge of their digital learner presence, and their perceptions of some of the ICTs used in their learning. A variety of research projects are presented here to provide an overview of the student's digital learner presence in online learning. This is a longitudinal study of several research projects merged to provide an understanding of the student's digital learner presence in relation to various ICTs and e-learning resources.
Participants
The participants in this research were both undergraduate pre-service teachers and postgraduate education students. Postgraduate education students could only study online, whilst undergraduate pre-service teachers had the option to study either online or on-campus (face-to-face). Participation was voluntary in all the research discussed here.
Processes
Students responded to a variety of questionnaires, mostly before and after their study sessions. They were also observed through different means (both online and face-to-face), and recording of text responses were analysed. The different types of observations were face-to-face, online posts on discussion boards, wikis and 3D virtual worlds.
Methodology
Students were enrolled in an education degree at the University of New England. They were both undergraduate and postgraduate students and either studying online or face-to-face (on-campus) as outlined previously. An action research methodology was used, analysing both qualitative and quantitative data. Online posts, surveys, observations and student feedback were analysed to address the main research questions that emerged from the literature. These questions were centred around the following themes: student engagement and the impact on student perceptions of their learning. These themes centred around the student's digital learner presence. All students were enrolled in an ICT unit. However, some were mandatory units, and therefore, it cannot be assumed that the students that chose to study these ICT units had prior knowledge, understanding and digital presence in any ICT tools.
Results and Discussion
Reported here are the results of several research projects exploring student learner presence of various tools used in learning and teaching. Examined in more detail are blogs, discussion boards, wikis and virtual worlds. Since 2011, students have been asked to reveal what they knew about various ICTs prior to beginning their studies. Figure
5
provides an overview of what the participant students' knowledge was of various tools prior to beginning their studies. As can be seen, Moodle, Facebook, Twitter, YouTube, Second Life, World of Warcraft, Skype, iTunes and Flickr were the ICTs that were explored. There were over 500 respondents and students ranged from pre-service teachers to postgraduate education students. Students were asked to identify if they had knowledge of these various tools and to what extent.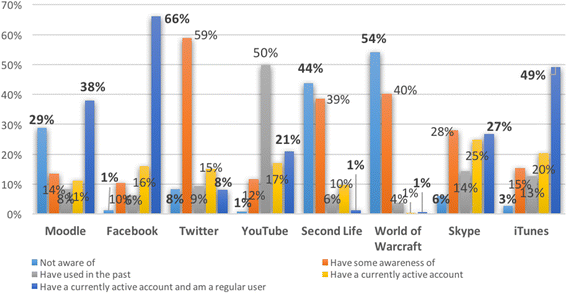 Moodle, the LMS that was, and still is, being used by the University, was the first ICT that students were asked if they knew prior to beginning their studies. This was important because, as has been mentioned, over 80% of the students at UNE chose to study in online mode. Therefore, an understanding of how to use the learning management system was crucial. However, it was not a requirement that students had knowledge of the LMS prior to study as they would be provided with the knowledge once enrolled. Twenty-nine percent of respondents indicated that they had no knowledge of Moodle prior to beginning their studies. Thirty-eight percent indicated that they had an account and were an active user. It could be assumed that these respondents were school leavers and had used Moodle whilst studying at school. Or, alternatively, students could have studied at another institution, or in another course at UNE, prior to commencing their studies with the authors, when asked this question. Unfortunately, the question was not asked for respondents to clarify their answer.
It is no surprise that 66% of the respondents had prior knowledge and are active users of Facebook. Only 1% had no prior knowledge of Facebook.
Again, it was not surprising that those who had used Twitter were limited, with only 1% being active users. Although Twitter is a very good resource for teachers, the respondents were not aware of this at the time of enrolling in these units. In relation to YouTube, most respondents indicated that they had either used YouTube, had an active account and/or were a regular user of YouTube, 87.8%.
The virtual world of Second Life was not known by many of the respondents, 44% indicating that they were not aware of it. Eighty-three percent indicated that they were either not aware of it or had never heard of it, and had not used it. Interestingly, World of Warcraft was included so that a comparison could be made between the two virtual worlds. Ninety-four percent of the participants either had no knowledge of this online provision or had never heard of it and therefore did not have a World of Warcraft account. This was a surprising result because this question was added so that respondents would have two virtual worlds to demonstrate their knowledge. World of Warcraft is a popular virtual world for a younger audience, and these results indicated that the respondents were more mature (which corresponds with the "typical" demographic of a UNE online student—aged around 35 years, female and working). Therefore, they may not be the "typical" person that played World of Warcraft. Second Life is a virtual world that is created by the users—all the content is made by individual users via their avatars and can be created according to one's taste (and ICT abilities). On the other hand, World of Warcraft is highly structured, with set tasks that have to be undertaken, and the world and avatars cannot be changed. In World of Warcraft, all players join teams to progress through levels. There are no levels in Second Life, there is no game plan and individuals can exist without the need for others.
Almost one third, 27%, were regular users and account holders of Skype. This indicates that this is an ICT tool that students may use to communicate with others. Thirty-four percent of users did indicate that they either had no awareness of (6%), or some awareness of (28%), Skype.
As many students own some sort of Smart Technology, iPhone, Smartphone, iPad, Tablet or tools along these lines, it was not surprising that almost half of the respondents, 49%, had an iTunes account and were active users. This tool is used to download music or to purchase apps, ebooks, view videos, etc. However, most people were aware of iTunes or were active users, 69%. Only 3% of respondents were not aware of iTunes.
The following section discusses the tools that were explored in this paper and the research undertaken to get a sense of the learner's digital presence through the use of these individual tools. A variety of research projects were used to provide these results. Each project is discussed briefly.
Conclusion
This article has drawn from various research projects, bringing together students' perceptions of their digital presence from a variety of online tools, including blogs, discussion boards, wikis and 3D virtual worlds. Many of the tools were used in the students learning either as an adjunct to the learning management system or as an added extra for the student's learning. Students gained a digital presence in many of the online tools used. Their overall feel for the tools varied with responses to discussion boards being very favourable as they felt this was a tool that could assist in their learning. For those who used blogs and wikis, they understood the context in which to use them but did not do so on many occasions of their own accord. For those students who voluntarily participated in the 3D virtual world activities, they found that the tool supported their learning and they were engaged and immersed in the content when using this tool.
What becomes apparent is that those students who have strong self-regulation and metacognitive skills are able to regulate their learning experiences. Through their interactions with others, in carefully designed collaborative learning experiences, they develop a critical consciousness, which enables them to identifying problem situations and develop solutions that address these issues. Through collaborative problem solving, these students rely on their own self-knowledge and learn to apply strategies that will enable solution finding to complex problems they encounter (Tarricone 2011). What cannot be underestimated is that for effective collaborative learning to take place through the use of technology, it requires careful design by educators and academics (Dennen and Hoadley 2013). Integrating problem-based learning into online learning, with appropriate support, will enable the development of collaborative skills that will assist their problem solving skills and self-awareness and develop communities of practice where they can develop knowledge building within this community of like-minded peers (Larreamendy-Joerns and Leinhardt 2006).
It can be concluded from this research that when a student begins their studies, they can be digitally unexposed. However, with careful scaffolding throughout their learning, they have many opportunities to gain a positive digital learner presence. Also, it was clear that some students responded both positively and negatively to different tools. They had to find the tools that suited their learning needs, whereas others found different tools suited their learning presence more appropriately. A variety of research projects were bought together to provide the opportunity for digital learner presence. The themes of the research centred around student engagement, and the impact of student perceptions of their learning, which guided the theme of this paper to present students' digital presence through blogs, discussion boards, wikis and 3D virtual worlds.
Declarations
Authors' contributions
SG conceived the study, carried out the research, designed and coordinated the research, performed the statistical analysis and drafted the manuscript. MB-T drafted the literature review and methodology, participated in the virtual world activities and edited the manuscript. All authors read and approved the final manuscript.
Competing interests
The authors declare that they have no competing interests.
Publisher's Note
Springer Nature remains neutral with regard to jurisdictional claims in published maps and institutional affiliations.
Open AccessThis article is distributed under the terms of the Creative Commons Attribution 4.0 International License (http://creativecommons.org/licenses/by/4.0/), which permits unrestricted use, distribution, and reproduction in any medium, provided you give appropriate credit to the original author(s) and the source, provide a link to the Creative Commons license, and indicate if changes were made.
Authors' Affiliations
(1)
School of Education, University of New England, Armidale, Australia